Felipe Castaneda
Mexican artist Felipe Castaneda was born on December 16, 1933 in Michoacan, Mexico. He is an internationally renown sculptor and is a man of great sensitivity and enormous talent. His exhibits have been held in the United States, Mexico and Europe. In 1958 he took classes in drawing, modeling, carving and constructive drawing. He absorbed knowledge very quickly and was adept at carving and sculpting.
In 1962, he married his wife Martha and he began working for the National Museum of Anthropology in Mexico City. It was at this time that Castaneda became assistant to Francisco Zuniga, world renown sculptor. By 1966, Felipe Castaneda was able to mold plaster and clay for sculptures perfectly. Castenada set out on a path to perfect his ability to create stone sculptures. His early training with Zuniga made Castaneda the sculptor he is today.
Castaneda creates sculptures in marble, onyx and bronze. His concentration is the female form. The subject of women is the center of his creativity...wife, mother, lover, friend. He depicts her kneeling, standing, sitting, reclining, and stretching - capturing all her moods. Each of the women Castaneda creates is mysterious and provocative. They have perfect proportions owing to his profound knowledge of human anatomy. His sculptures are executed in the Greco--Roman style of beauty. His marble and onyx figures, when completed, gleam like polished jewels.
Further Reading:
Felipe Castaneda: http://www.artnet.com/artists/felipe-castañeda/
Felipe Castaneda: http://www.artisticgallery.com/biographies/castanedabio.htm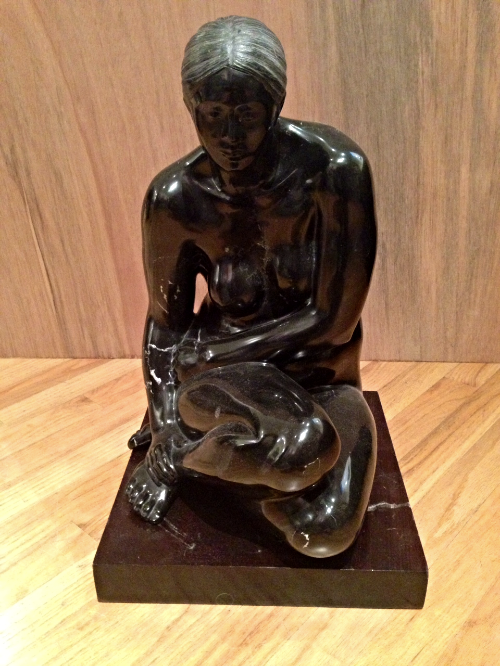 Felipe Castaneda
Untitled (Women), 1979, Marble, 20.5" x 12.75" x 12 .75"